Targeted diagnostic imaging for the treatment of heart failure
Nuclear medicine is a rather unknown field of medicine which, however, can be applied for diagnostic purposes across practically all specialties. It enables us to examine various functional and metabolic changes in different organs and to detect anomalies, such as changes suggesting cancer, at an early stage. My research team is seeking to find novel methods for targeted early diagnostics of heart diseases.
Published 3.9.2020
Writer: Valtteri Uusitalo
The methods of nuclear medicine are based on the use of radioactively labelled tracers whose passage in the body can be tracked by scanning with a gamma camera or positron emission tomography (PET). It is possible to image, for example, the metabolism of a cancer tumour with the help of a radioactive sugar analogue, or the blood flow in the heart by using radiolabelled water. Radiolabelled casserole foods are well suited for the examination of the functioning of the digestive system. My research team is searching new nuclear medicine methods for use in the diagnostics of heart diseases.
Cardiac amyloidosis, also known as 'stiff heart syndrome', is a condition in which insoluble protein fibrils, amyloids, build up in the heart and stiffen its normal muscle function. Previously, with no effective drugs available to treat this condition, there was not much need for extensive imaging of amyloidosis either. In recent years, however, several specific drugs have been developed for the treatment of the most common type of cardiac amyloidosis, namely transthyretin amyloidosis (ATTR). Now, it is essential for doctors to identify individuals who would benefit the most from these expensive treatments. According to earlier imaging studies, amyloidosis may be the underlying cause for 6–7 percent of the heart failure cases. Also, in a Finnish study based on post-mortem examination material, amyloid fibrils were found in the heart muscle of up to 25 percent of the autopsied population aged 85 or over.
Borrowing tools from neurologists
My research team is investigating if a PET tracer that has previously been used as a diagnostic tool for Alzheimer's disease is feasible for the imaging of cardiac patients as well. This tracer, flutemetamol, is based on thioflavin, a substance that is used for the microscopy staining of amyloid fibrils, so we assumed it would be capable of detecting amyloid deposits in the heart. In autumn 2019, we conducted a pilot study in the Meilahti Nuclear Medicine Department involving eight patients and, to our joy, the tracer seemed to work excellently. The intensity of cardiac imaging depended on the type of pathogenic amyloid fibril. The very harmful but less frequent type, known as light chain amyloidosis (AL), was more intensely imaged than the more common ATTR.
In our actual research, we will continue to work on the sub-typing of amyloidosis, which will hopefully help to reduce the need for heart biopsies in the future. In order to find the correct treatment, it is necessary to establish which type of amyloid protein is causing the disease. At the same time, we will gain information about the clinical benefits of measuring the myocardial amyloidosis burden in terms of predicting mortality and the development of cardiac dysfunction. When completed, our research project will have accumulated valuable knowledge about a new method.
Academic pitfalls and headwinds
The path from medical research to clinical applications is paved with many obstacles. First of all, the benefit for the individual researcher remains, in many cases, minor in comparison to the more straightforward research topics based on already existing research materials. Progress in an academic career is bound to the number of published articles. The initial planning and budgeting may cause anxiety, and the recruitment of patients is often a task you need to manage alone. Imaging examinations are expensive, and when applying for a grant, a researcher may have to decide whether to apply for funding to cover costs for the examinations or personal salary. The limited working hours reserved for research result in a hectic pace and make it difficult to concentrate on solving the challenging problems.
Added value for clinical research
When we plan our research projects, the novelty aspect as such is not a sufficient starting point. It is necessary to prove the practical usefulness of a new imaging method, which will later contribute to its approval for use in a clinical setting. In medicine, new methods must support us in making the right choices among various therapies. When financed by taxpayers, medicine is also expected to enhance cost-efficiency in health care.
This project aims at providing a tool for targeted early diagnostics, which is likely to decrease the overall number of examinations for an individual patient. Moreover, replacing invasive heart biopsies with PET imaging may reduce the total expenditure and possible complications of treatment. We endeavour to identify those groups that, for some reason, cannot be examined by means of other imaging methods. We also aim at defining the smallest possible amount of the tracer necessary for reliable imaging.
I would like to thank the Sakari Alhopuro Foundation for supporting our research project. I sincerely encourage young scientists to come up with new research ideas and apply for grant funding for their projects. Should you not find a topic for research within your own specialty, please feel free to contact me. Anything can be imaged with a PET camera!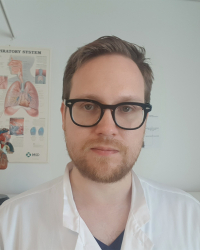 Valtteri Uusitalo, MD, PhD, is working as a resident at the Unit of Clinical Physiology and Nuclear Medicine, HUS Helsinki University Hospital, and will complete his specialist studies in 2021. In 2016, Uusitalo earned his PhD at Turku PET Centre with the use of cardiac imaging in the diagnosis of coronary artery disease as the topic of his dissertation. Currently, Uusitalo and his research team are developing new methods for cardiac imaging. In the future, upon completing his specialist degree, he is looking forward to continuing in patient work using various methods of cardiac imaging.
Further reading:
Uusitalo V. Sydänamyloidoosin isotooppikuvantaminen. Sydänääni 2020;31:48-52
Laitinen T & Knuuti J. Sydämen PET-tutkimukset. Duodecim. 2020;136:1102-9
Gertz MA, Dispenzieri A, Sher T. Pathophysiology and treatment of cardiac amyloidosis. Nat Rev Cardiol. 2015;12:91–102.